Features :
TX90 High precision valve seat and valve guide cutting machine especially designed for multi-valve cylinder heads. Patented workhead with triple air-float patented centering system and built-in spindle motor.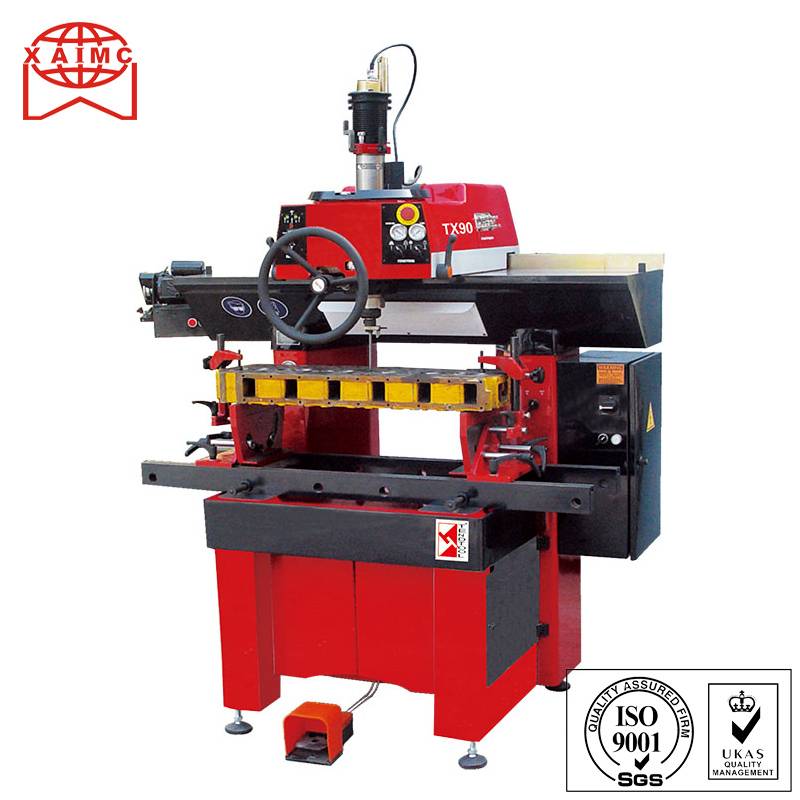 The TL120  offers the patented new Triple Air-Float Automatic Centering system and its high torque and powerful motorspindle. Very accurate, all-purpose machine to cut valve seats and ream valve guides. Extremely versatile this machine will cut valve seats from the smallest to the biggest diameter. Thanks to its lightweight floating system. It will machine cylinder heads of any size from micro-engines up to big stationary engines.
Featuring a machine bed structure optimized by static and dynamic calculation, with a modern, modular and functional design, it can accommodate either the tilting fixture (+42deg to -15deg) or the hydraulic 360deg roll-over fixture with lateral up-and-down system.
The TL120 has a benefit of air floating table bars. Thus adding faster setup time and effortless shifting of any size cylinder head. This feature decreases operator fatigue and increases productivity.
◆Machining capacity .55″/16mm to725″/120mm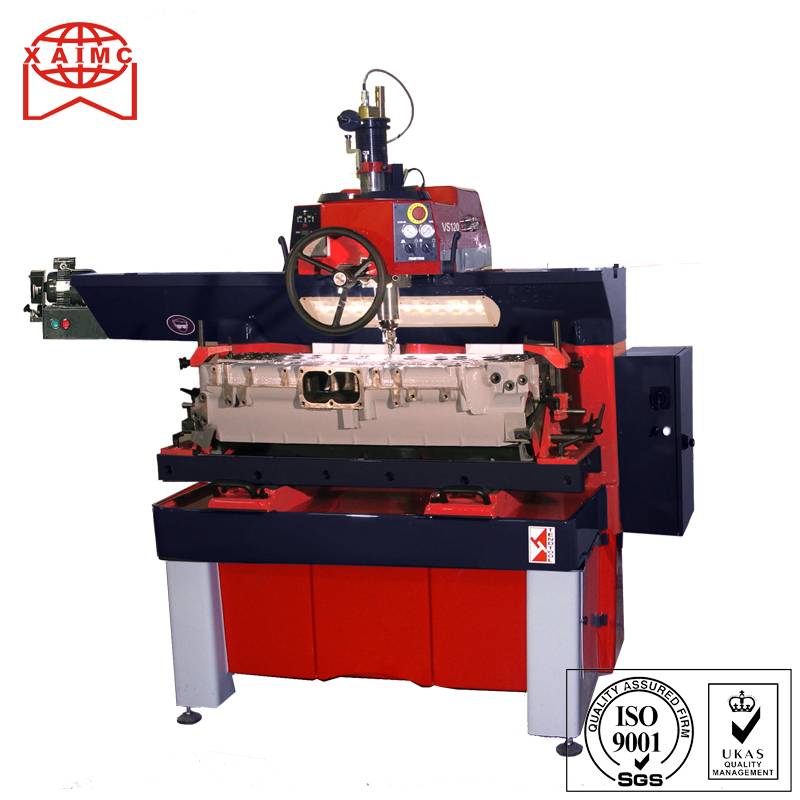 Featuring the new generation of valve seat boring.Provides more than a 30% decrease of cutting forces during Machining. Angular accuracy within ±0.5 degree guaranteed on multi-angle cutter.
Machining capacity from 0.6″/16 mm to 4.7 "/120 mm.
TECHNICAL FEATURES:
| | | | | |
| --- | --- | --- | --- | --- |
| Machine capabilities | Unit | TX90 | TL120 | TL120XL |
| Max. length of the cylinder head | mm/inch | 990/39 | 1440/56.69 | 2400/94.48 |
| Max. width of the cylinder head | mm/inch | 500/19.7 | 500/19.7 | 500/19.7 |
| Max. height of the cylinder head | mm/inch | 450/17.7 | 450/17.7 | 550/21.65 |
| Crosswise work piece tilting | degrees | +45° to -15° | +45° to -15° | +45~-15 |
| Maximum table horizontal travel(mm) | mm/inch | 16-90/0.6-3.6 | 160/4.3 | 160/4.3 |
| Machining capacity dia.(min-max) | Φmm/inch | 14-90/0.55-3.5 | 16/120/0.6-4.7 | 16~120/0.63~4.72 |
| Work head displacement | | | | |
| Lengthwise | mm/inch | 930/37 | 930/37 | 990/39 |
| Crosswise | mm/inch | 40/1.6 | 40/1.6 | 40/1.6 |
| Sphere-Cylinder travel | mm/inch | 9/0.4 | 9/0.4 | 250/9.8 |
| Spindle | | 200/8 | | |
| Max. spindle incination | degrees | 5 | 5 | 5 |
| Spindle travel | mm/inch | 200/8 | 200/8 | 250/9.8 |
| Power of the spindle | Kw | 1.5 | 1.5 | 2.2 |
| Spindle rotation speed | rpm | 0-1000 | 0-1000 | 0~1200 |
| Alimentations | | | | |
| Electric supply | V | 380V/50Hz 3ph or 220V/60Hz/3ph | 380V/50Hz 3ph or 220V/60Hz/3ph | 380V/50Hz 3ph or 220V/60Hz/3ph |
| Air pressure | bar/psi | 6-87 | 6-87 | 6/87 |
| Max. air flow | 1/mn-CFM | 300/11 | 300/11 | 300/11 |
| Level of noise at 400 RPM | dba | 73 | 72 | 72 |
| Level of noise at 1200RPM | dba | 82 | 82 | 82 |
| Net weight (approx.) | kg/lbs | 1050/2310 | 1400/3086 | 1550/3417 | 1450/3197 |
| Machine space requirements | | | | |
| Length | mm/inch | 1440/56.7 | 1750/68.9 | 2250/89 |
| Width | mm/inch | 1050/41.3 | 1150/45.3 | 1150/45 |
| Height | mm/inch | 2170/85.4 | 2200/86.6 | 2280/86.6 |