Mark & model : BQ2010B
Origin : Asia and Pacific Area China
Quality standard : International
Submit date : 2015-05-28
H.S.Classification : Machinery & Electronics Machines for Working Metal 8461 Machine tools for planing, shaping, slotting, gear cutting etc.
Product profile : Gantry metal shaping machine
The planers are appropriated to rough and precise machining of various planes, T shaped slots,
guideways composed of various planers, racks and it is featured of planing, milling, grinding speed
properties, so the milling head, grinding head can be mounted on the machine for more processes.
For long life, the joint surface between table and guideways have been taken measures of wear
resistance and it is characterized by good rigidity, consumption saving and light weight. The main
transmission is switched reluctance drive system.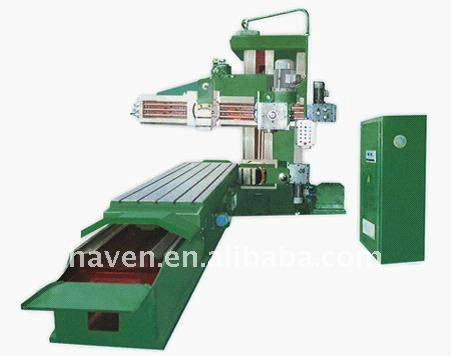 Model

BQ1010B

BQ2010B

Max. machining size

Length

3000; 4000; 6000mm

Width

1000mm

1200mm

Height

800mm

Max. machining weight

3000kgs

Motor power for table feed

15kw (SRD infinitely variable speeds)

Table length

3000; 4000; 6000mm

Table width

800mm

1000mm

Rack permissible tractive force

1.86 x 104 N

Table speed

1.7~30m/min

Max. feed of vettical toolpost

Horizontal

0.45~21mm

Vertical

0.32~13.5mm

Rapid traverse of verticle toolpost

Horizontal

900mm/min

Vertical

560mm/min

Max. feed of side toolpost

0.32~15.2mm

Rapid traverse of side toolpost

840mm/min

Elevating and lowering speed of crossrail

600mm/min

Cross section of tool shank

40 x 40mm2

Overall dimensions

Length

7060; 9248; 13200mm

Width

3077mm

3277mm

Height

2800mm

Net weight

12000; 15000; 20000kgs

14000; 17000; 22000kgs